Eco-friendly Production Activities
Environmental Management
Environmental Vision
INOAC will respect the irreplaceable natural environment of our planet and contribute to a better and more comfortable society through our technologies that are in harmony with the environment, and corporate activities that place value on the environment.
Environmental Policies
Conduct trustworthy corporate activities through compliance with laws, regulations, and requirements related to the environment.
Promote the reduction of CO2 emissions through energy conservation and other measures to prevent global warming.
Proactively engage in the conservation of resources, reduction of waste, and recycling, to promote a recycling-oriented society.
Properly manage chemical substances that could affect the natural environment, and minimize related risks.
Promote actively the development of products with less environmental impact, contributing to conserving natural environment throughout product lifecycle.
Promote the Environmental Management System, provide employees with environmental education, audit the process, and continue making improvements.
Contribute as a good corporate citizen to building a sustainable society through local environmental conservation activities.
*Environmental Policies were updated on January, 2018.
Environmental Management System
To promote environmental activities systematically, the person responsible for environmental management oversees environment-related matters under the direct supervision of top management and the Committee on Environment carries out environmental activities throughout the company. Regarding the issues of industrial waste and energy saving, we have established specialized subcommittees, and continue promoting further reduction of waste. In addition, the two subcommittees cooperate with to promote environmental management.
Environmental Preservation Promotion System

---
Internal Environmental Audit
We implement internal environmental audits to check the status of operation of the Environmental Management System. The audit team consists of two to three members who have completed the audit training stipulated by the company. It checks if the Environmental Management System is being properly operated, maintained, and improved. In the event that the team finds that the system is being operated improperly in an organization, it conducts additional audits and corrects the problems so that the system can be operated properly.
External Environmental Examination
To check whether the Environmental Management System is being operated in line with the stipulations of ISO 14001 (2004 version), we request inspections by the Japan Quality Assurance Organization (JQA), an outside certification organization. In FY2015, we had an inspection conducted, including an expanded inspection of the Ibigawa Plant of INOAC Housing & Construction Materials Co., Ltd. The findings identified no matters for improvement, and JQA judged that the system was being maintained properly. The overall assessment, however, was that a review of environmental aspects at points of variation, as well as assessment of the methods of achieving environmental goals and verification of the effects were necessary.
---
FY2015 Overall review on main activities
Items
FY2015 activity policy and goal
FY2015 results of activities
Results
Reduction of Energy Consumption
Plant Sites
Primary Unit (power cost/output)
2.43 or below
Consumption (in a crude oil equivalent)
25,523 kl (results of FY2014)
Primary Unit
2.33
Consumption (in a crude oil equivalent)
22,794kl(results of FY 2015)
Goal Achieved
Office Sites
Consumption (in a crude oil equivalent)
95.6kl or below
Consumption (in a crude oil equivalent)
89.1kl
Goal Achieved
Reduction of Waste
Plant Sites
Primary Unit (power cost/output)
4.53 or below
Amount of Treatment
3148 t (results of FY2014)
Primary Unit
5.30
Amount of Treatment
3475 t (results of FY2015)
Goal Unachieved
Office Sites
Amount of treatment: 1533 kg or below
Amount of treatment: 1382kg
Goal Achieved
Environmental Improvement Activities
Number of improved cases (whole company) 859 or more
1408 cases
Goal Achieved
Development and Sales Expansion of eco-friendly Products
Development of light in weight products by Technology Development Dept., sales expansion of eco-friendly products by Sales Dept. (each section has set target value)
Theme Development
Goal Achieved
Environmental Communication
Issuance of CSR Report
Issuance
Goal Achieved
Goal
Goal Achieved
Goal Achieved
Goal Achieved
Goal Achieved
*We totaled each result of the following INOAC sites.
INOAC CORPORATION
: Anjo Plant, Sakurai Plant, Nanno Plant, Yana Plant, Headquarters (Nagoya), Tokyo Branch, Osaka Branch, Ikeda Plant, The Second Ikeda Plant, Ohno Plant, Jinno Plant
INOAC Housing & Construction Materials Co., Ltd.:
: Ohno Plant, Ibigawa Plant
The following table shows the results of the main environmental activities conducted at INOAC in FY2015. As for energy consumption, we achieved a reduction of approximately 10% from the previous year by upgrading each type of equipment to the latest energy-saving models or taking power-saving measures. As for the amount of waste treatment, although we further advanced reuse and conversion to fuel, we were unable to achieve our goal owing to disposal of scrap material and backup stock, etc., not linked to production activities at the time of equipment handover and changes to materials. However, we will continue reducing waste and proactively promote recycling activities.
---
Compliance with environment-related laws and regulations
At INOAC, we identify environmental laws and regulations that are relevant to our business activities and manage them on a daily basis. As part of the Environmental Management System, we prevent environmental pollution and otherwise conduct environmental risk management to ensure that we properly comply with laws and regulations related to noise and industrial waste treatment, through monitoring, measurement, and assessment at each plant. We will continue strictly adhering to environmental preservation agreements with local government in line with corporate ethics, including environmental laws and regulations.
Air

Air Pollution Control Law, Law Concerning Special Measures for Total Emission Reduction of Nox and PM Automobiles in Specified Areas and Law Concerning Special Measures against Dioxins
Water Quality/soil

Water Pollution Control Law, Private Sewerage System Law, Sewage Law and Soil Contamination Countermeasures Law
Noise, Vibration and Bad Smell

Noise Regulation Law, Vibration Regulation Law, Offensive Odor Control Law
Chemical Substances

Act on Confirmation, etc. of Release Amounts of Specific Chemical Substances in the Environment and Promotion of Improvements to the Management Thereof (Law concerning Pollutant Release and Transfer Register/PRTR) and Poisonous and Deleterious Substances Control Law
Saving Resources Recycle

Law Concerning the Rational Use of Energy, Containers and Packaging Recycling Law, Fluorocarbons Recovery and Destruction Law, Law concerning Special Measures for Promotion of Proper Treatment of PCB Waste, Law Concerning Waste Disposal and Scavenging (Waste Disposal Law)
Disaster Prevention

Fire Services Act, High Pressure Gas Safety Act
General Laws & Others

Plant Location Law, Law Concerning the Improvement of Pollution Prevention Systems in Specific Factories, Radio Law
---
Emergency Drills
At INOAC, we identify emergency and accident scenarios according to the characteristics of individual plants and implement periodic drills to prevent environmental pollution and the spread of contamination, such as leaks of oils, solvents, and other chemical substances from fires and equipment. On May 27 and December 1, 2015, we conducted overall emergency drills at the Anjo Plant. In addition, we implement training to prevent leaks of raw materials, nighttime evacuation drills, and other individual training suited to the nature of each section. We conduct emergency training at other business sites as well in preparation for emergencies.
Reducing Environmental Load
Reducing Energy Consumption
Plant Sites Energy Consumption (in a crude oil equivalent)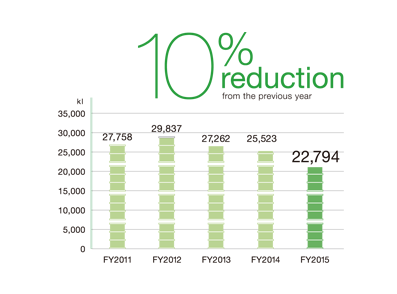 We have already been promoting CO2 emission reduction and energy-saving to prevent global warming. Specific activities include setting energy-saving goals for summer (June to September) and winter (December to February), as was done in FY2014. We replaced equipment that had high energy consumption with the latest energy-saving models (inverter- type compressor, electric-type injection molding machine, etc.) and promoted introduction of LED lights, solar power, etc. As a result, we achieved a reduction of approximately 10% compared to FY2014.
Efforts
Electric-controlled Injection Molding Machine at Sakurai Plant

Mercury Arc Lamps to LED Lights at Sakurai Plant

Upgrade of Outdoor Air Conditioner at Anjo Plant

Introduction of Solar-power Systems at Anjo Plant
FY2015 of Primary Acts of Energy-saving Promotion
Update of Compressors to Inverter-system Type
Implementation of Putting Thermal/heat Insulation Sheet on Window Glasses
Replacement of Oil-control-type Injection Molding Machine with Electric-type
Replacement of Mercury Arc Lamps in Plant with LED Lights
Upgrade of Air-conditioner Outdoor Equipment Capacity to Super Capacitor
Installment of Cold Air Blowers
Introduction of Solar-power Systems
Summer eco-style Campaign

As part of power saving and global warming prevention measurements, we run Summer Eco-style Campaign at INOAC to share the awareness of energy saving.
---
Approach to 'Green Logistics'
As an approach to green logistics, we conduct activities to improve logistics, such as adopting the milk-run method, modal shift to railway and ocean transport, and centralization of distribution centers, to streamline energy consumption and reduce CO2 emissions to improve the environment from the aspect of logistics as well.
Streamlining of logistics with cooperative delivery system (milk-run)

---
Waste Reduction Activities
Handling amount of Class 1 Designated Chemical Substances(PRTR Law)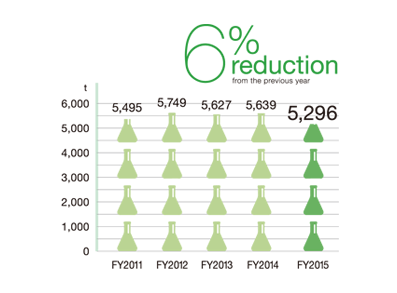 As for waste reduction activities, we hold company-wide meetings, report cases of reduction of waste, and share the information horizontally. As countermeasures against waste sources, we have been working toward the inline use of recycled materials, change or reduction of secondary materials such as packaging, ensuring the return of wooden pallets, etc., used in shipping, expanding utilization as recycling sources through sorting, and use of exhaust gas as fuel through drying and pulverization. As a result, the amount of waste treatment has been trending down over the past few years. Although there was an increase in FY2015 over FY2014, we achieved approximately a 10% reduction compared with FY2012.
---
Environmental Load Reduction Activities
Amount of waste treatment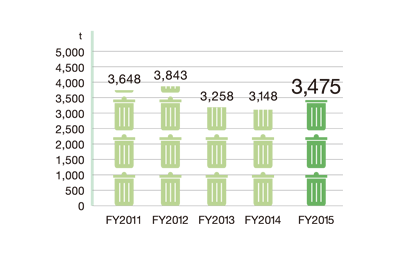 At INOAC, we use chemical substances defined as Pollutant Release and Transfer Register (PRTR) as stipulated in the Act on Confirmation, etc. of Release Amounts of Specific Chemical Substances in the Environment and Promotion of Improvements to the Management. Thereof, such as m-tolylene diisocyanate, which is a raw material of polyurethane foam, and xylene or toluene used in coating procedures. We have been reducing such chemical substances by replacing some of them with non-inclusion types and reducing loss by improving yield. As a result, the amount of handling of such substances is trending down, and in FY2015 we achieved a reduction of approximately 6% compared with FY2014.
Control of Chemical Substances Information
Promoting the use of IMDS
Information collecting of IMDS at INOAC: flow of reporting and the system of controlling chemical substances

INOAC registers chemical substances information and reports to it our customers utilizing IMDS*1 in particular, in the field of automotive components which is the main business of INOAC as a comprehensive manufacturer using polyurethane, rubber, and resin. Since we introduced IMDS in February 2003, we have collected the necessary information through our supply chain and established management systems to implement IMDS registration. We conduct one-on-one instruction and study sessions targeting persons in charge of environmental matters at each technical department to use IMDS effectively, ensure the reliability, and streamline the process. On such occasions, we share the information and issues and solve the problems.
IMDS stands for International Material Data System. It was developed database system using the Internet to transmit and collect information on materials and chemical substances in the automotive industry to correspond to EU End-of Life Vehicles Directive.
REACH stands for Registration, Evaluation, Authorisation and Restriction of Chemicals. It entered into force on 1 June 2007. It requires a wide range of management and correspondence such as transmitting information on Substances of Very High Concern included even in molded items.
---
Constructing In-house Database
INOAC has developed an in-house database to consolidate information on chemical substances contained in purchased components and raw materials, which was collected mainly through an investigation of the supply chain. The database has been operated in the Automotive Department since the end of 2007. It enables us to immediately retrieve information required at the time of registration in IMDS and research whether or not the object contains environmentally hazardous substances. Further, it prevents us from conducting redundant research, leading to a more efficient workflow and contributing to improvement of the accuracy of reports.
Corresponding to REACH
In addition to components molded for automotive use, INOAC produces synthesized materials such as polyurethane and rubber for each type of industry. Accordingly, it is necessary to identify information on chemical substances in a wide range of procured items, including each raw material. The Environmental Management Department distributes the latest environmental information such as REACH*2 to the relevant parties internally on each occasion, precisely identifies and shares the information on substances that are of great concern, and collects information on the substances contained in purchased raw materials.
---
Enactment and Operation of Green Procurement Standards
We create a list of chemical substances regulated by each type of law and regulation and our customers, as well as those that for which the contained amount should be identified and for which efforts should be made toward reduction. We then submit the list to our suppliers as Green Procurement Standards and utilize it to identify information on chemical substances contained in raw materials we purchase. We operate while conducting reviews that take into consideration adherence to REACH regulations and other of the latest laws and regulations.
Environmental Communication
In-house Training Systems
INOAC provides employees with environmental education in order to enhance environmental activities at company.
Group Training
Group Training
General Training
Legal Affairs
Basic Knowledge of Environmentally Hazardous Substances
ISO-related
Comprehension Course for ISO14001
Training Course for ISO14001 Internal Auditors
Professional Training
Legal Affairs
Waste Treatment Method and 'Entrepreneur Pays Principle'
Training by Section (in line with ISO)
Environmental policies to be known to all Trainings in line with remarkably changing environment
---
Neon sign of Headquarters (Nagoya, Japan)

Billboard at main entrance of Anjo Plant

Billboard at west side of Sakurai Plant

Billboard at main entrance of Sakurai Plant
Light-Down Campaign 2015
Every year, we participate in Carbon Dioxide (CO2) Reduction/Light-Down Campaign promoted by Ministry of the Environment as preventive measures against global warming. In FY2015, ten offices/plants including Group companies participated in the campaign on June 22 (the summer solstice) and July 7 (the Star Festival).
Cleanup activities in the vicinity of plants
Each plant carries out cleanup activities in the area.
Anjo Plant

Ohno Plant

Nanno Plant

Yana Plant