Eco-friendly Production Activities
Environmental Management
Environmental Vision
INOAC will respect the irreplaceable natural environment of our planet and contribute to a better and more comfortable society through our technologies that are in harmony with the environment, and corporate activities that place value on the environment.
Environmental Policies
Conduct trustworthy corporate activities through compliance with laws, regulations, and requirements related to the environment.
Promote the reduction of CO2 emissions through energy conservation and other measures to prevent global warming.
Proactively engage in the conservation of resources, reduction of waste, and recycling, to promote a recycling-oriented society.
Properly manage chemical substances that could affect the natural environment, and minimize related risks.
Promote actively the development of products with less environmental impact, contributing to conserving natural environment throughout product lifecycle.
Promote the Environmental Management System, provide employees with environmental education, audit the process, and continue making improvements.
Contribute as a good corporate citizen to building a sustainable society through local environmental conservation activities.
*Environmental Policies were updated on January, 2018.
Environmental Management System
The person responsible for environmental management implements the integrated management of the environment under the direct control of top management and implements environmental activities for the whole company in the activities of the Environmental Committee, working to promote environmental activities in an organized fashion. We organized a specific section committee to handle industrial waste and energy saving to further accelerate reduction and to promote environmental management in cooperation with each committee. We also started activities conformable to ISO 14001:2015 in January 2017 and are working to achieve our objectives under a regime close to our main work by completely reviewing manuals.
Environmental Preservation Promotion System

---
Internal Environmental Audit
We implement internal environmental audits to check the status of operation of the Environmental Management System. The audit team consists of two to three members who have completed the audit training stipulated by the company. It checks if the Environmental Management System is being properly operated, maintained, and improved. In the event that the team finds that the system is being operated improperly in an organization, it conducts additional audits and corrects the problems so that the system can be operated properly.
External Environmental Examination
We ask the Japan Quality Assurance Organization (JQA), which is an external certification registration body, to implement examinations to check if the environmental management system is appropriately operating in accordance with ISO 14001:2015. We also implemented an examination for shifting to ISO14001:2015 whose activities started in January in FY 2017. As the result, no items indicated for improvement were found, and the system including shifting was determined to be sustained. As an overall assessment, issues to be considered about influence on management in expanding objectives and others were listed.
---
FY2017 Overall review on main activities
Items
FY2017 activity policy and goal
FY2017 results of activities
Results
Reduction of Energy Consumption
Plant Sites
Intensity (used amount/production sum)
337.2 and below
Used amount (crude oil equivalent)
28,303 kL (2016 result)
Intensity
348.5
Used amount (crude oil equivalent)
28,244 kL (2017 result)
Goal Achieved
Office Sites
Used amount (crude oil equivalent):
92.9 kL or below
Used amount (crude oil equivalent):
91.6 kL
Goal Achieved
Reduction of Waste
Plant Sites
Intensity (treated amount/production sum)
5.45 and below
Treated amount:
4,634 t (2016 results)
Intensity
6.48
Treated amount:
5,254 t (2017 results)
Goal Unachieved
Office Sites
Treated amount: 1,818 kg or below
Treated amount: 1,553 kg
Goal Achieved
PRTR substances Reduction in release and transfer amounts
Intensity (release amount + transfer amount)/production sum)
2.67 and below
Release amount + transfer amount
187,930 kg (2016)
Intensity
1.64
Release amount + transfer amount
132,887kg (2017)
Goal Achieved
Environmental improvement work
Environmental improvement cases (total in the entire company):
1,046 cases or more
1,726 cases
Goal Achieved
Environmental Communication
Issuance of CSR Report
Issuance
Goal Achieved
Goal
Goal Achieved
Goal Achieved
Goal Achieved
Goal Achieved
*Business places from which environment data are collected to summarize major activities are shown below:
INOAC CORPORATION
: Anjo Plant, Sakurai Plant, Nanno Plant, Yana Plant, Ishimaki Plant, Ikeda Plant, Ikeda Second Plant,
Ono Plant, Jinno Plant, Ukiha Plant, Headquarters (Nagoya City), Tokyo branch, Osaka branch
INOAC Housing & Construction Materials Co., Ltd.:
: Ibigawa Plant
Kyushu INOAC Co., Ltd.
: Kikuchi Plant, Ukiha Plant, Kita-Kyushu Plant
Techno Foam Japan Co., Ltd.
: Headquarters, Saitama Plant
Kyushu Color Foam Co., Ltd.
The results of INOAC's main work for the environment in FY 2017 are shown in the table below.We reduced energy consumption compared with the previous fiscal year even though we could not reach our reduction objectives due to insulation countermeasures in our facilities. Although we moved forward on recycling, we did not reach our objectives for reducing waste disposal because the market standards for valued resources have become stricter year after year. About the release amount of PRTR substances, we introduced CO2 foaming equipment to reduce methylene chloride as a foaming agent, promoted substituting a cleaning agent with non-PRTR substances for a cleaning agent with PRTR substances, reached our objectives and substantially passed it.
---
Compliance with environment-related laws and regulations
At INOAC, we identify environmental laws and regulations that are relevant to our business activities and manage them on a daily basis. As part of the Environmental Management System, we prevent environmental pollution and otherwise conduct environmental risk management to ensure that we properly comply with laws and regulations related to noise and industrial waste treatment, through monitoring, measurement, and assessment at each plant. We will continue strictly adhering to environmental preservation agreements with local government in line with corporate ethics, including environmental laws and regulations.
Air

Air Pollution Control Law, Law Concerning Special Measures for Total Emission Reduction of Nox and PM Automobiles in Specified Areas and Law Concerning Special Measures against Dioxins
Water Quality/soil

Water Pollution Control Law, Private Sewerage System Law, Sewage Law and Soil Contamination Countermeasures Law
Noise, Vibration and Bad Smell

Noise Regulation Law, Vibration Regulation Law, Offensive Odor Control Law
Chemical Substances

Act on Confirmation, etc. of Release Amounts of Specific Chemical Substances in the Environment and Promotion of Improvements to the Management Thereof (Law concerning Pollutant Release and Transfer Register/PRTR) and Poisonous and Deleterious Substances Control Law
Saving Resources Recycle

Law Concerning the Rational Use of Energy, Containers and Packaging Recycling Law, Fluorocarbons Recovery and Destruction Law, Law concerning Special Measures for Promotion of Proper Treatment of PCB Waste, Law Concerning Waste Disposal and Scavenging (Waste Disposal Law)
Disaster Prevention

Fire Services Act, High Pressure Gas Safety Act
General Laws & Others

Plant Location Law, Law Concerning the Improvement of Pollution Prevention Systems in Specific Factories, Radio Law
---
Emergency Drills
We identify accidents and emergencies in accordance with the characteristics of each business facility, and periodically mplement training to prevent environmental pollution such as fires and chemical leakage (oils, solvents, etc.) from facilities. General disaster training was held on June 2 and November 30, 2017, and individual training is implemented in accordance with the characters of departments including training for preventing raw materials from flowing out and evacuation drills at night in the Anjo Plant. In other facilities, trainings for emergencies are implemented as preparation.
Reducing Environmental Load
Reducing Energy Consumption
Plant Sites Energy Consumption (in a crude oil equivalent)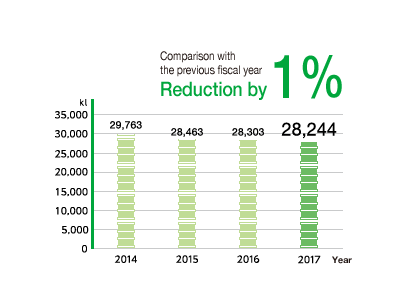 INOAC has promoted reducing CO2 emissions and saving energy to prevent global warming. We implemented efficiency increases in dryers and room heating by utilizing waste heat from boilers and fans, heat insulation measures on factory roofs, boiler piping, cure furnaces and more, and promoted LED use. The amount of energy used in FY 2017 almost leveled off in comparison with FY 2016, and was reduced by approximately 5 percent (crude oil equivalent) compared with FY 2014.
Efforts
Anjo Plant: Heat insulation cover on plant roofs

Affiliated companies: Installation of insulation jacket on tanks

Kita-Kyushu Plant: Taking-out and taking-in of waste heat from fans
Significant implementation contents for energy
saving promotion in 2017
Increase in air conditioning efficiency by removing waste heat from rooms (summer) and bringing waste heat into rooms (winter)
Countermeasures to prevent air leakage by ultrasonic air leak detectors
Heat insulation by covering plant roof
Enhanced air conditioning efficiency by partition curtains
Curing furnace heat insulation with INOAC's THERMAX, a heat insulating material
Installation of insulation jacket on tank in boiler room
LED illumination management by control switch
         
Power reduction by utilizing waste heat from boiler room
Other work for preventing global warming
INOAC is working on preventing global warming from other perspectives too. We provide our employees with education on power saving including cool biz, which is our energy-saving attire campaign, with summer eco-style campaigns. We also work on cooperative transportation and smooth deliveries, a modal shift to railway and maritime transport, and distribution base intensiveness. In addition, we participate in the CO2 Reduction and Lights Off Campaign propelled by the Ministry of the Environment every year, and implemented the campaign at 10 facilities including our group companies on June 21 (summer solstice) and July 7 (Star Festival) in 2017 too.
---
Waste reduction
Discharged and moved quantity of PRTR substances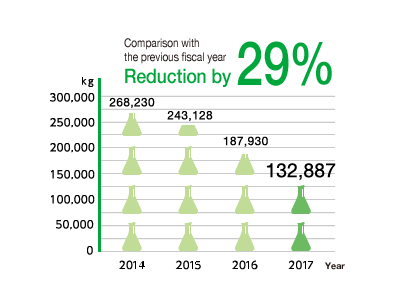 Regarding waste reduction, the companywide waste reduction committee, as the leader, promotes reports of waste reduction cases, application of such waste reduction to other facilities, reductions in loss by detecting the reductions and improvements in yields and expansion of utilizing recycled resources including recycling by separating used paper and material recycling at each business place. However, the criteria for valued resources have become stricter; therefore, in many cases we had to disposal resources as industrial waste.
---
Reducing environmental burden substances
Waste treatment amount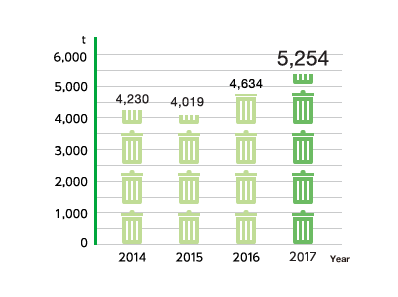 INOAC uses PRTR substances such as m-tolylene diisocyanate, which is a raw material of polyurethane foams, xylene or toluene, which are used in the coating process. We have promoted increases in using paints with low solvent rates (high solid type) and stopped using 1-bromopropane at the cleaning process of a urethane injection machine as work for reduction in handling amounts and the releasing amount of such target substances. Thanks to this work, we achieved remarkable reductions in 2017 by approximately 29% compared with 2016 and by approximately 50% compared with 2014.
---
NCV project participation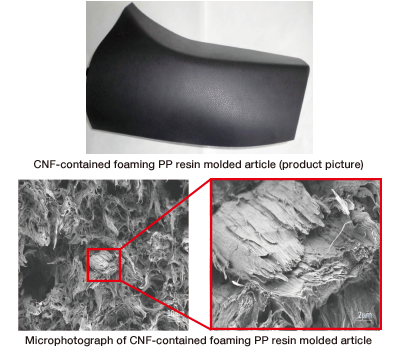 The NCV (Nano Cellulose Vehicle) project was launched by the Ministry of the Environment to improve automobile fuel consumption by weight and CO2 reduction by applying cellulose nanofiber (CNF), which is a light-weight and high-strength next generation material, to the automotive field. Kyoto University leads the project and more than 20 industrial, academic and governmental institutions participate. INOAC CORPORATION has participated in this project from the beginning, evaluated moldability, physical properties and more, and worked to implement practical realization.
Ministry of the Environment
Control of Chemical Substances Information
Promoting IMDS, chemSHERPA*2 and more
Information collection through IMDS in INOAC - reporting process and chemical management system

INOAC registers information on chemicals and reports it to our customers through IMDS*1, especially in the automotive field, which is our main strength, and has a management system to obtain the necessary information via our supply chain and to register IMDS.
Information collection and report to our customers using the chemSHERPA*2 format that has been widely used in the industry, especially in the electrical machinery industry are supported (The format was changed from the previously used JAMP format to the above).
IMDS (International Material Data System): A database for transmitting and obtaining information on materials and chemicals over the internet for the automotive industry, which was developed to comply with the EU ELV Directive as a start
chemSHERPA: A unified format to transmit information on chemicals contained in products in the supply chain, which the Ministry of Economy, Trade and Industry took the initiative in developing
---
Establishment of in-house database
The automotive division operates the in-house database through which information on chemical substances contained in purchased parts and raw materials is managed in an integrated manner, which contributes to improved work efficiency, the accuracy of the contents to be reported in the registration with IMDS and the investigation of Substances of Concern contained in the purchased parts and raw materials.
Establishment and execution of green procurement criteria
We list chemical substances regulated by laws and regulations, or customers, and list chemical substances that we should reduce after understanding their content. We show them as green procurement criteria to suppliers; we use such lists to obtain information on chemical substances contained in raw materials to be purchased.
Environmental Communication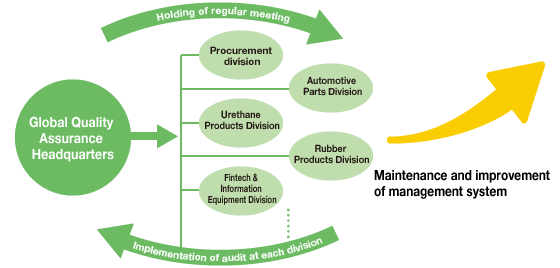 Communication about chemical substance management
The global quality assurance headquarters that is a company-wide organization and leader regarding environmental management gathers the chemical management section in each department and meets once every two months. At the meetings, they review the green procurement criteria, check the management system, establish or change operation rules, and exchange opinions concerning the latest trends in chemical regulations such as the REACH regulation and RoHS Directive, as well as periodically implementing auditing the management system in each department to maintain and improve an appropriate and reliable management system.
Cleanup activities in the vicinity of plants
Each plant carries out cleanup activities in the area.
Anjo Plant

Ohno Plant

Nanno Plant

Yana Plant